___
Text
"Form Work" Blockprojects Gallery
A plastic injection moulding factory in an outer south-eastern suburb of Melbourne seems an unlikely starting point for Jo Wilson's refined sculptural works. It is this site however, where she maintains a studio and sources most of the elements used in her art, inspired by the sheen of tools and machinery, and the texture of wooden sandcasting moulds, which make up the patina of its industrial landscape. Established and operated by Wilson's father, Bob, this particular factory is deeply embedded in her being – she has spent many days there over many decades, and in addition to registering the ingenuity and technical skill of its workers, its spaces also conjure up memories of a strong father-daughter bond.
The components Wilson used to make this body of work had been gathered over a number of years, removed from the factory context so that their material qualities – shape, size, colour and so on – could be considered independent of their traditional function. Having a reserve of pieces at home, she was able to work throughout the extended lockdown which Melbourne residents experienced last year. Using what was at hand, without the prospect of being able to add to it, her approach was more playful and she incorporated materials that might otherwise have been discarded. Wilson describes the process of making during this strange time as having a calming effect and there is something meditative in her hand-working of these pieces, from the graphite dust which is rubbed into timber surfaces until they take on the appearance of metal, to the carefully painted grids based on fragments of steel mesh found in the factory. In a series of white works, sheets of paper clay which record the impression of mesh and small pieces of embossed paper (both harking back to Wilson's experience as a printmaker), embellish sandcasting moulds, creating serene minimal compositions. Particularly prominent in these works is Wilson's sensitivity to texture, the smooth surfaces of the wall works contrasting against the totems, where the tactile, natural grain of the timbers is highlighted.
The materials and processes used to create these works are many and layered. The end result is simple however, pared back forms constructed from geometric shapes in a limited palette of grey, 'Wilson Green' (a bespoke colour mixed to the artist's specifications) and white, alongside the varied tones of timber. Although the functional purpose of the individual elements Wilson uses is no longer apparent, she celebrates the detritus of industry, acknowledging the workmanship that went into their production as she transforms them into objects of beauty. Fundamentally abstract, these works are rich in meanings that subtly echo with memories of labour, family and creativity – what the artist terms 'talismans of the past.'
KIRSTY GRANT 2021
___
"Material only" Blockprojects Gallery
Just as the circle, with its unbroken curved line, is a unifying form – and force – its use in Jo Wilson's work harmonises seeming opposites: the hand-crafted and factory-made; the original and the reproduction, and the universal and particular.
Wilson's circular forms include wooden mesh discs, elongated solid timber hand-turned forms, rolls of packing tape cast in bronze, and salvaged industrial patterns made of wood and rubber. A pattern is, by nature, a means to an end, a mould for a cast. Yet here, the pattern is given pre-eminence – its integrity as a handcrafted, unique object is made visible, all the more so because Wilson has chosen to apply her own hand to the original object rather than to cast it in anything else. By applying metallic paint and various pigments to their surfaces, inscribing lines and carving wooden inlays, Wilson foregrounds and honours both the everyday work history of these forms, and the role of the hand in their original production.
This redeployment of industrial wheels, patterns and discs, and the use of recycled timber in cylindrical forms also references the endlessly repeated line of the circle and functions, in a real sense, to give these objects new life.
Alongside, and quite literally underpinning some of these forms, are some of the common and generally overlooked materials intrinsic to their production. Wilson's use of industrial, corrugated cardboard, and thick rolls of packing tape cast in aluminium and bronze, respectively, take us to the factory floor. Rough squares of gleaming, cast cardboard are stacked to form the bases of totemic sculptural pieces, hand-turned to produce the deep threads reminiscent of those found in machinery. These works, the intervention of the artist's hand on original patterns, and the casting of materials used for packing and storing all emphasise the time of labour and the often hidden or disregarded personal nature of humans' engagement with machines.
It could be said that there is an intrinsic stillness and calm to the circle as a form. While circles – in the real – can spin and whirr noisily, particularly in industrial contexts, here it is as if they have paused, inviting us to likewise pause in front of them and to notice, in their carved lines and creases, or in their newly rendered smooth and shiny surfaces the artist's deeply-considered re-imagining of their working lives and of the hands of those who have crafted and operated them. A re-imagining which, like the endless, enclosed line of the circle, suspends time and invests these forms with an enduring strength, presence and beauty.
SAMANTHA SEMMENS 2018
___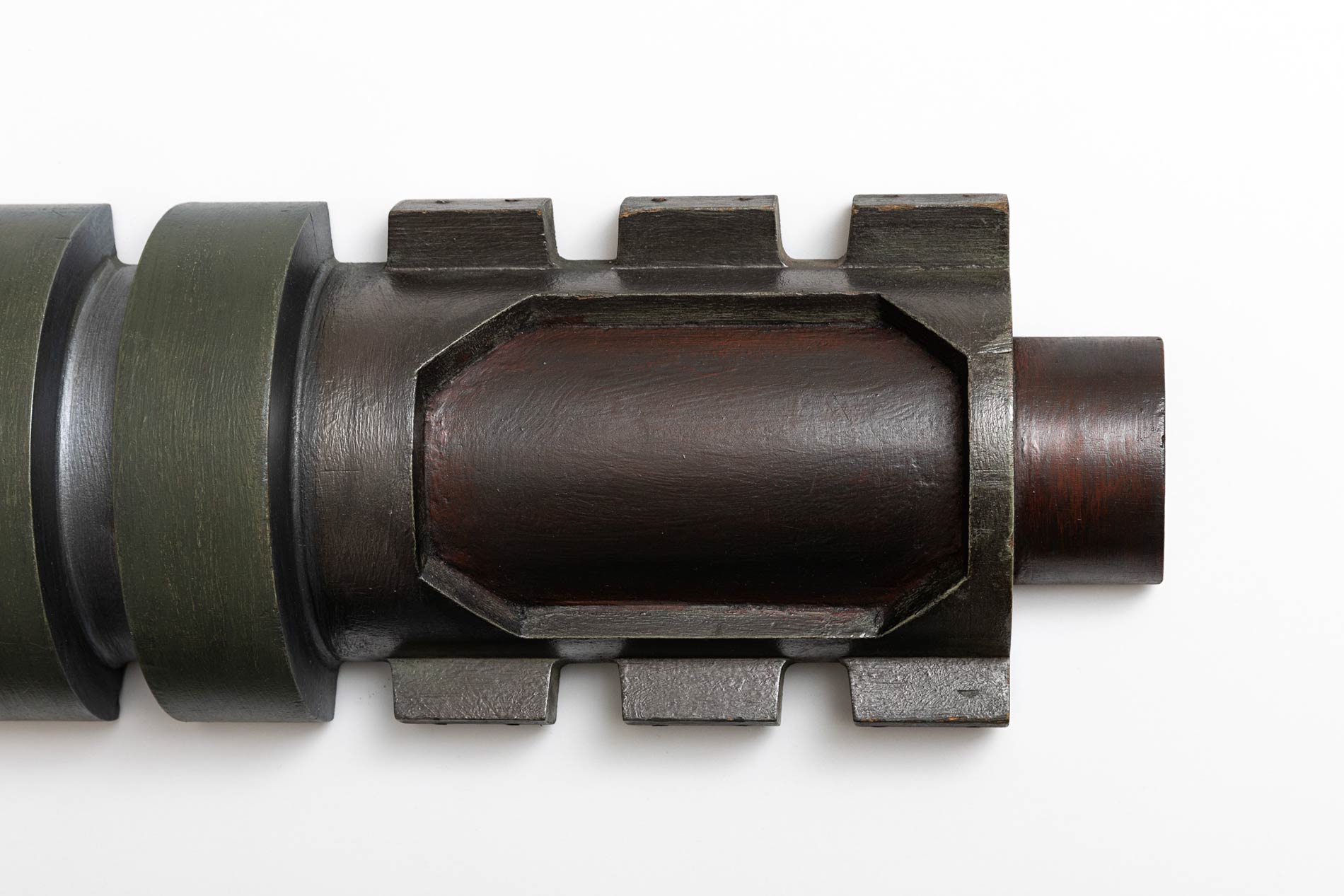 Jo Wilson's sculpture is inspired in part by the contents of her father's factory. The artist has taken delight in the industrial trappings of this mechanised workspace.
She has found mysterious beauty in sections of machinery, discarded workshop objects, sprockets, offcuts and fragments, which she has reconstructed and repurposed into elegant abstract forms.
The resulting objects are strangely familiar, yet also enigmatic. A discarded sheet of pressed cardboard, rescued from the factory floor and cast in bronze is now eternal; the utilitarian roll of sticky-tape, cast in the same permanent metal, becomes a poetic relic of the age, as intriguing as any Bronze Age artefact.
Elsewhere, circular wooden forms have been constructed, with concentric rings emanating from the centre-point. These mandala-like objects suggest shields, or charts of the cosmos as they set out the trajectory of their own enclosed universes.
In Wilson's work, we may find echoes in the sculpture of Constantin Brancusi, or British artist Eduardo Paolozzi, the godfather of British Pop Art, who also saw the cultural potential in the detritus of contemporary life.
STEVE COX 2018